Producent naturalnych gryzaków dla psów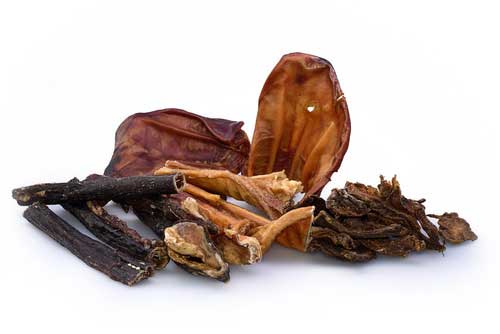 Zdrowie i siła Twojego psa
Jesteśmy producentem naturalnych gryzaków dla psów, które stają się coraz bardziej popularne na naszym rynku. Stanowią doskonałą alternatywę dla tradycyjnych gryzaków, zawierających często sztuczne konserwanty, barwniki i polepszacze. Nasze gryzaki produkowane są z najwyższej jakości surowców – wołowiny, drobiu, cielęciny, wieprzowiny, baraniny, jagnięciny i nie tylko. W 100% naturalny proces suszenia zapewnia im wyjątkową trwałość, aromat i kolor. Pozwala to również skondensować niezbędne wartości odżywcze, jak: białko, tłuszcz, witaminy i mikroelementy. Oferowane przez nas gryzaki to również doskonały sposób na utrzymanie prawidłowej kondycji zębów oraz dziąseł Twojego pupila.
Wiemy jak ważne jest zdrowie pupili dla ich właścicieli, dlatego też przykładamy szczególną uwagę do całego procesu produkcji i pakowania, co zapewnia najwyższą jakość naturalnych gryzaków. Współpracujemy jedynie z atestowanymi dostawcami surowców, którzy przestrzegają surowych norm jakościowych. Decydują się na nasze naturalne gryzaki dla psów, troszczysz się o zdrowie swojego czworonoga.
Skontaktuj się z nami i zapytaj o współpracę. Oferujemy przejrzyste warunki handlowe i rzetelne podejście do kooperacji.
Zainteresowany współpracą? Skontaktuj się z nami.